Overcome Fear of Failure Subliminal
Overcome your fear of failure with help from this subliminal mp3 and change your life!
Do you hesitate when it comes to trying new things like starting a new career or maybe your own business because they may fail?
Do you find it difficult to follow through on something like presenting a new idea because you're afraid it will be a failure?
Do you tend to always "play it safe" because you fear potential setbacks and failures?
Do you want to enjoy success but the fear of failure stops you in dead in your tracks?
If you've finally reached a point in your life where your fear of failure is affecting your quality of life, the subliminal audio on this mp3 has the power to change your life forever.
Your fear of failure is nothing more than a belief mindset that simply needs to be reprogrammed.
The subliminal messages on this album will help you to change that fear into success by reprogramming your mind on a subconscious level.
These subliminal audio mp3s will give you that little extra push you need to motivate you to take a chance and not let the fear of failure keep you from getting what you want out of your life. Yes, subliminal messages can actually help you change the way you look at failure on a deeper level.
You will:
Go after your dreams with a new level of persistence and use failure as a way to motivate yourself to try harder. Your new life will feel like a breath of fresh air! You never give up, you will learn from your failures and setbacks and keep moving forward.
See your business and personal life improve dramatically because you no longer let the fear of failure determine your happiness. You will make decisions based on your confidence and experience and become comfortable with the fact that you may fail because you always strive to do better every time. You will feel amazing knowing how much happier and successful your life can be.
You will develop the mindset that "all failure is feedback", that failure is a chance to learn and grow. You will become more confident in yourself and your abilities, and more than anything you will be less concerned with failing. You won't welcome failure but you will see it as progress - i.e. next time you will know what not to do and will have a better chance of success.
Has your fear of failure held you back enough already? If so then let us help you to take a whole new approach to how you live your life and experience how much better you feel without the fear of failure controlling you, your decisions and your happiness.
Download this subliminal album now, you've got nothing to lose but a little bit of fear and a whole new life, full of success to gain.
This is a really core album on it's own and it can help you in many areas of life, but it also works well when combined with our entrepreneur mindset or business success subliminal mp3s - if you want to specifically achieve success in this area.
Listen To Our Sample Tracks
Each of our albums contains 5 tracks; Ocean, Fire, Wind, Thunderstorm, and a completely Silent track.
These 5 tracks contain the same affirmations (which you can see to the right) - we include 5 different tracks purely to give a variety of sounds for you to choose from if you prefer one type over another.
Select a track below to hear a 20 second sample:
* These samples are representative of what you will hear but do not contain any subliminal messages.
Affirmations In This Recording
I have overcome my fear of failure
All failure is feedback
I learn from failure
Failure is a chance to learn and grow
I always learn from any setbacks and failures
Failure only makes me more persistent and try harder
Failure drives me on to success
I only focus on the end result
I am successful because I persist through failure
I always try to do better and improve upon last time
Success
Save Up To 50%
Buy 3 Albums Save 10%
Buy 5 Albums Save 20%
Buy 10 Albums Save 30%
Buy 20 Albums Save 40%
Buy 30 Albums Save 50%
60 Day Money Back Guarantee
[ Close ]
Download 3 Subliminal Albums Worth $44.91
+ Our Exclusive eBook Completely FREE!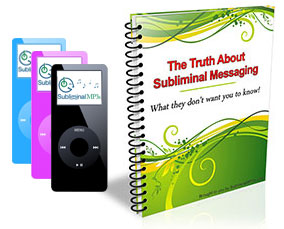 Join our newsletter and receive amazing, exclusive, benefits:
3 Subliminal Premium Downloads Worth $44.91
Our Free eBook: "The Truth About Subliminal Messaging"
Exclusive promotions, offers, and discounts