Eliminate Exhaustion Subliminal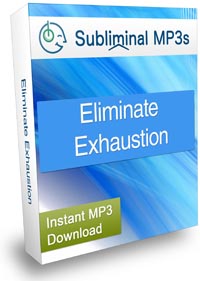 Would you like to eliminate exhaustion, and feel healthy, happy and have an abundance of energy every day?
We all know that feeling of being totally 'washed out'. We have no energy, feel as if our brain is in a constant fog, we become irritated with trivial things, we can't focus for too long and just feel utterly drained.
Sometimes there doesn't seem to be any reason for feeling like this, we just feel as if we could sleep all day. However, if we stay in this state too long our mind and body can get used to it, and rather than letting our bodies recuperate, pretty soon we start to feel exhausted all the time. It's time to eliminate your exhaustion and reclaim your natural energy with this energy boosting subliminal album.
Feeling energized is our natural state
With the help of the these subliminal mp3s, you can get back to your natural state and reclaim your energy, and get your body and mind working for you again to feel great and excited about the day ahead. With this album you can:
Gain an abundance of energy, and start to feel motivated, and determined again to pursue your passions and goals in life.
Regain the physical and mental strength you need to get you through the day, and still have enough reserve energy for rest and play time.
Get back to a state of emotional homeostasis, when you feel in control of your emotions at all times.
Motivate yourself again to become the person you once were who was excited, full of energy, and looked forward to what life had to offer.
If you want to eliminate exhaustion, and feel energized every day then this album will help you to achieve that. You can motivate yourself again to do everything you used to do, and do it with more passion and energy than ever before.
Over the last few months you may have lost your energy a bit, and feel you're just plodding on in life, and thinking that you're stuck in a rut or feeling tired and exhausted. You may have unconsciously programmed yourself to continue feeling like this, knowing that this feeling is just not you. You can reprogram yourself again break through your exhaustion and get back on track feeling energized and excited about what lies ahead.
This album will work to give you:
Energy to get you through the day and beyond. We can all feel drained at times, but our bodies can sometimes get stuck on the rut of feeling like this. We have an abundance of energy and with this album we can help our brains release the hormones required to give us back the vital energy needed every day.
The mental strength needed for everyday life. That feeling of brain fog might have set in, but you can get it back and give you the mental strength you had before. Energetic people are naturally mentally strong, and this album will work to give you this mental toughness back.
Motivation to follow through on all your plans. When you are full of energy, your motivation is high. You may secretly admire people who seem to have bags of energy throughout the day and still have enough reserve energy for rest and play time. They are people who have unconsciously programmed themselves to feel like this. You too can feel like this with the help of this album.
Focus and concentration to help you with your daily tasks. Just now it may feel as if you just can't focus, or concentrate, on anything. That's because your mind has not been getting enough energy to help you focus on the things you need to. This album will work to give you that power of being able to focus and concentrate to a higher level in everything you do.
With this unique set of affirmations, this album will get to the heart of your unconscious mind to give you an abundance of energy, focus and motivation every single day. It has been specifically created for people like you to help you 'find your mojo' again. You will find that you have more energy than ever before and you start to enjoy your life again.
Whilst you are in complete control of the messages you feed your brain, by choosing this album you are choosing to feed your mind with positive messages that have a powerful effect on how your mind works. You will become more energetic, more able to focus, mentally stronger and much more motivated that you have ever been.
Download this album now and feel how good it can be to have lots of energy again, and get your life back on track in everything you do.
Listen To Our Sample Tracks
Each of our albums contains 5 tracks; Ocean, Fire, Wind, Thunderstorm, and a completely Silent track.
These 5 tracks contain the same affirmations (which you can see to the right) - we include 5 different tracks purely to give a variety of sounds for you to choose from if you prefer one type over another.
Select a track below to hear a 20 second sample:
* These samples are representative of what you will hear but do not contain any subliminal messages.
Affirmations In This Recording
I have lots of energy at all times
I am motivated in everything I do
I am mentally strong
I concentrate effortlessly
I have an abundance of natural energy
I am a highly motivated person
My powers of focus is getting stronger every day
My energy levels are growing every day
My mind feels sharp and focus in everything I do
I am energized, alert and focused
Save Up To 50%
Buy 3 Albums Save 10%
Buy 5 Albums Save 20%
Buy 10 Albums Save 30%
Buy 20 Albums Save 40%
Buy 30 Albums Save 50%
60 Day Money Back Guarantee
[ Close ]
Download 3 Subliminal Albums Worth $44.91
+ Our Exclusive eBook Completely FREE!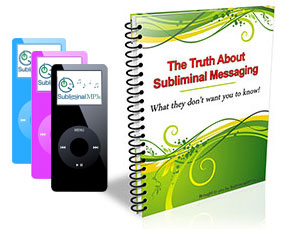 Join our newsletter and receive amazing, exclusive, benefits:
3 Subliminal Premium Downloads Worth $44.91
Our Free eBook: "The Truth About Subliminal Messaging"
Exclusive promotions, offers, and discounts