Over 200+ Powerful Subliminal MP3s
Do you want to change your negative self beliefs, eliminate any self limiting thoughts, and free yourself from long held patterns of thinking which are holding you back in life?
With our powerful subliminal messages you can do exactly this - in just 20 minutes a day! With our 250+ subliminal mp3s you can program your mind for success - whatever your goals are! Or if you are new to subliminal messaging you can receive 3 free subliminal mp3s and see the benefits for yourself!
How Does it Work?
Subliminal messages work as a mild form of hypnosis - gradually sending suggestions into your subconscious mind to rewrite your self beliefs, ways of thinking, and even patterns of behavior. These messages bypass your "logical" conscious mind so avoid any resistance which would usually hold you back. Because of this you can develop in ways which would not be possible with conscious personal development alone.
The possibilities are limitless. You can use subliminal messages to lose weight, focus your mind on success, improve your motivation, enhance your learning capacity, and much, much more!
Most Popular
New Album Discount
For a limited time Save 30% off ALL the new albums listed below!
Keep Informed
Find us on Facebook
Follow us on Twitter
Latest Feedback
"I love your albums so much, I take them everywhere with me!! They have skyrocketed my confidence socially and I feel on fire at work, I am giving my opinion and speaking up for myself and I am really getting noticed - in a good way haha :)"
Chris Brady, Los Angeles, USA
---
"Feeling so much better about my age, feeling more healthy, vital, and mentally clear than I have in yerars"
Jon Marshall, Sydney, Aust
---
"I was not expecting all that much but I am actually very impressed, I have now been using a range of your albums over the last 3 weeks. In particular your positivity album and your motivation albums are doing wonders for me at work!"
Paul Ferguson, Chicago, USA
Choose from over 200 professionally produced subliminals
---
Disclaimer: Due to the unfair potential to influence the mind without the consent of the listener, subliminal messaging in advertising is banned throughout the USA. SubliminalMP3s.com accepts no responsibility for how you use these albums, and although they will only ever promote positive change, they should not be played to anyone without their consent.
[ Close ]
Download 3 Subliminal Albums Worth $44.91
+ Our Exclusive eBook Completely FREE!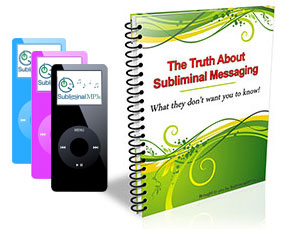 Join our newsletter and receive amazing, exclusive, benefits:
3 Subliminal Premium Downloads Worth $44.91
Our Free eBook: "The Truth About Subliminal Messaging"
Exclusive promotions, offers, and discounts