Be Your Own Boss Subliminal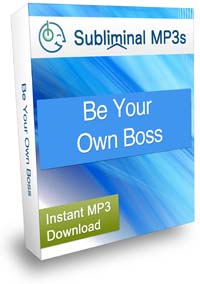 Stop working so hard to make someone else rich - become your own boss and live the lifestyle you've always wanted!
Do you want to be your own boss?
Do you want to achieve both financial freedom and more control over your lifestyle?
You can change the thoughts that are keeping you from achieving your dream of being your own boss with the help of subliminal messages.
How it Works
This album will help you in several ways - it will basically instill in you the qualities which are shared by people who work for themselves, achieve freedom from the regular 9-5, and run their own businesses. These subliminal messages will:
Ignite a burning desire within you to become your own boss. To break from your regular employment, set something yourself, and achieve independence.
Create a massive amount of motivation and drive. You will be inspired and will work harder than ever before to realize your dream of being your own boss.
Develop a deeper level of self belief. You will have confidence in your abilities and faith in your ideas.
Instill in you a solid core of persistence. In becoming your own boss and working to build a successful business you will encounter many problems, negative people, and countless setbacks. These suggestions will help you to stay strong, and stay persistent in the face of any setbacks.
Think about it for a moment, probably the biggest reason you're not working for yourself is because deep down you don't believe you have what it takes to be successful. You've got great ideas, you know what you want to do, but your thoughts have you convinced that you're just not ready.
This doesn't have to be the case forever, our subliminal messages work to change your beliefs on a deeper level and give you the mindset you need to change your path and become your own boss.
Becoming Your Own Boss Is Really Possible..
It will be just a matter of time before your daydreams become your new reality. Imagine running your own successful business and the relief you feel because you are now in control of the amount of money you make and you feel content because your financial future is a lot more secure.
Imagine waking up each day excited, motivated and totally confident in your abilities to deal with any setbacks. You gain a reputation as someone who works hard, is reliable and gets the job done no matter what ,and that's great for business.
You'll start believing in yourself 100%. When your self belief sky-rockets it will help you to go for even bigger business opportunities, expanding your business and achieving the kind of financial freedom that lets you enjoy a happier and more satisfying lifestyle!
It's time to replace those limiting thoughts with brand new thoughts that will reprogram the messages you're currently playing over and over again in your mind. The new subliminal messages can be heard only by your subconscious mind so there's no need for you to "convince yourself" that the new thoughts are true. You won't even hear them with your conscious mind and will still enjoy the benefits of your new belief system that will begin to form.
Download this subliminal album and become your own boss, enjoy total financial independence and live life on your own terms!
Listen To Our Sample Tracks
Each of our albums contains 5 tracks; Ocean, Fire, Wind, Thunderstorm, and a completely Silent track.
These 5 tracks contain the same affirmations (which you can see to the right) - we include 5 different tracks purely to give a variety of sounds for you to choose from if you prefer one type over another.
Select a track below to hear a 20 second sample:
* These samples are representative of what you will hear but do not contain any subliminal messages.
Affirmations In This Recording
I am my own boss
I run my own successful business
I have achieved financial freedom through my business
I have a burning desire to be my own boss forever
I will achieve total financial independence
I work harder than ever on my business plans
I am successful in business
I believe in myself 100%
I have confidence in myself and faith in my abilities
I am persistent and setbacks make me more determined
Financial & Business Success
Save Up To 50%
Buy 3 Albums Save 10%
Buy 5 Albums Save 20%
Buy 10 Albums Save 30%
Buy 20 Albums Save 40%
Buy 30 Albums Save 50%
60 Day Money Back Guarantee
[ Close ]
Download 3 Subliminal Albums Worth $44.91
+ Our Exclusive eBook Completely FREE!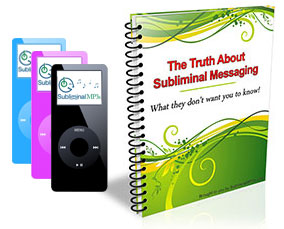 Join our newsletter and receive amazing, exclusive, benefits:
3 Subliminal Premium Downloads Worth $44.91
Our Free eBook: "The Truth About Subliminal Messaging"
Exclusive promotions, offers, and discounts