Diet Willpower Subliminal
Re-wire your mind to change they way you feel about your diet - increase your willpower dramatically and give yourself a much better chance of success, and a better chance of losing weight with help from these powerful subliminal messages!
Do you start a diet with enthusiasm, but lack the willpower to see it through?
Do yo you get tempted too easily after a few days, when you are really hungry?
Do you often give in to your cravings, and go back to your old ways?
If so then this album will help you. The messages on this album will help you to stick to your diet like never before and give you a massive advantage towards your weight loss goals. They will:
Make you more committed to your diet plan than ever before; you will feel different inside, you will be determined, and driven to stick to your diet more than any other time in your life.
You will be less inclined to cheat on your diet - you will think logically and rationally and remember your commitment to your diet even when things are tough.
You will be much more consistent, and persistent. You will stick to your diet plan and eat to regular times simply because you know you have to. You will not cheat, skip meals, or have extra snacks which could be the start of a slippery slope.
You will feel less tempted by fatty food, chocolate, sweets, and your favorite unhealthy foods. You will think clearly and you will be able to resist them like you never were able to before.
Overall you will just start to think differently about your diet. Rather than seeing it as being a chore, or a struggle, you will see the good it is doing you, and you will actually start to enjoy it!
If you have always struggled with sticking to a diet then this is the album for you. Our subliminal messages will penetrate deep into your mind to make these lasting changes to your personality and your whole approach to food. At first you will feel a burst of motivation and feel invigorated and committed to your diet more than you have ever felt before. Then after a few days when usually your motivation would start to fade, instead, with help from this album you will feel in control, powerful, still motivated, and simply have a rational and logical approach to your diet.
Download this album today and boost your diet motivation dramatically; eliminate temptation and give yourself a massive advantage!
This album is part of our larger weight loss category - if you are new to subliminal audio then get started with our most popular subliminal weight loss mp3s too.
Listen To Our Sample Tracks
Each of our albums contains 5 tracks; Ocean, Fire, Wind, Thunderstorm, and a completely Silent track.
These 5 tracks contain the same affirmations (which you can see to the right) - we include 5 different tracks purely to give a variety of sounds for you to choose from if you prefer one type over another.
Select a track below to hear a 20 second sample:
* These samples are representative of what you will hear but do not contain any subliminal messages.
Affirmations In This Recording
I have excellent willpower
I will stick to my diet
I enjoy my diet
My diet feels natural, and I am enjoying my diet
I enjoy eating healthy food
I am committed to my diet and losing weight
I am strong against food temptations
I am persistent and consistent with my diet
I am losing weight because of my healthy diet
I am healthy and slim because of my diet
Weight Loss
Save Up To 50%
Buy 3 Albums Save 10%
Buy 5 Albums Save 20%
Buy 10 Albums Save 30%
Buy 20 Albums Save 40%
Buy 30 Albums Save 50%
60 Day Money Back Guarantee
[ Close ]
Download 3 Subliminal Albums Worth $44.91
+ Our Exclusive eBook Completely FREE!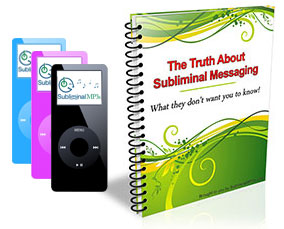 Join our newsletter and receive amazing, exclusive, benefits:
3 Subliminal Premium Downloads Worth $44.91
Our Free eBook: "The Truth About Subliminal Messaging"
Exclusive promotions, offers, and discounts