Love To Exercise Subliminal
Use this powerful subliminal album to rewire the way you think about exercise - learn to love it and lose weight naturally!
Is exercise more like a chore than a pleasure for you?
Do you start a new exercise routine only to get bored a few weeks later?
Do you get frustrated when people around you say how much they enjoy exercise, but you just can't feel the same?
Do you really want to lose weight but can't stand working out?
This is all in your mind - you can see this if, for example you and a friend both go to the gym. While they thrive on it, get addicted to going, and keep pushing themselves, you soon get bored, find it difficult - you simply don't enjoy it. Even though you are both doing the exact same activity your reactions and attitudes can be totally different.
However, this doesn't have to be the case forever.
Imagine what it would be like to really enjoy exercise - not to pretend to, but to actually love jogging, doing squats, yoga, gym… When your motivation comes from desire to do something, you don't need anything else to move you - you'll want to exercise because you will be focused on how good it makes you feel!
The subliminal messages on this album naturally penetrate your mind to really change the way you see exercise, and how you feel about it. Instead of seeing it as a chore and hard work you will think of the benefits. After listening to this powerful subliminal for a while you will be able to:
Enjoy exercise and accept it as a normal part of your life. You will stop looking for excuses and actually start looking forward to your next gym class. Exercise will naturally fit into your life just like eating and sleeping.
Think of the end result - the weight you will lose, and the muscle you will build. Instead of focusing on the immediate hardship and looking for ways to avoid it, you will have the big picture in mind all the time. You'll be motivated to exercise simply because you will be doing what's in your best interest.
Focus on the improvements to your health, and your energy levels. As your mind becomes more focused to the benefits of exercise, you will start noticing how much you're filled with energy and how good the exercise makes you feel. You will want to feel that way all the time.
Get the results you want without feeling the effort! You will gradually adopt the exercise as something natural, something that you can see tangible benefits from. You'll get in shape without even thinking about it, as a natural result of your changed mindset.
The subliminal messages on this album gradually build within your mind and become your reality. They will eliminate any negativity you hold towards exercise and you will start to enjoy it more and more, eventually looking forward to it until it becomes a regular enjoyable activity within your life (and of course brings with it the benefits of improved fitness, weight loss, and a stronger, healthier physical body).
Download this album today; start loving exercise and look forward to a brighter, healthier, more active future!
Listen To Our Sample Tracks
Each of our albums contains 5 tracks; Ocean, Fire, Wind, Thunderstorm, and a completely Silent track.
These 5 tracks contain the same affirmations (which you can see to the right) - we include 5 different tracks purely to give a variety of sounds for you to choose from if you prefer one type over another.
Select a track below to hear a 20 second sample:
* These samples are representative of what you will hear but do not contain any subliminal messages.
Affirmations In This Recording
I love to exercise
I enjoy exercising and keeping fit
I am healthy and full of vitality because of exercise
I am losing weight because of exercise
My body is healthy and efficient because of exercise
I am slim and attractive because of the exercise I do
My health and energy improves every time I exercise
I exercise regularly and enjoy it more and more each time
Exercise is a regular, and enjoyable part of my life
I look forward to exercising
Weight Loss
Save Up To 50%
Buy 3 Albums Save 10%
Buy 5 Albums Save 20%
Buy 10 Albums Save 30%
Buy 20 Albums Save 40%
Buy 30 Albums Save 50%
60 Day Money Back Guarantee
[ Close ]
Download 3 Subliminal Albums Worth $44.91
+ Our Exclusive eBook Completely FREE!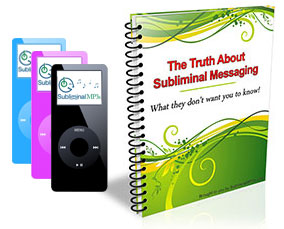 Join our newsletter and receive amazing, exclusive, benefits:
3 Subliminal Premium Downloads Worth $44.91
Our Free eBook: "The Truth About Subliminal Messaging"
Exclusive promotions, offers, and discounts