Premature Ejaculation Remedy Subliminal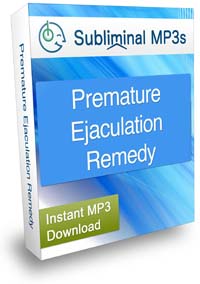 Stop premature ejaculation with this natural, subliminal remedy - start lasting longer in bed naturally and enjoy a more fulfilling sex life.
Do you suffer from premature ejaculation?
Do you wish you were able to last longer during sex?
Do you feel embarrassed?
Is this problem affecting the whole of your sex life and negatively influencing your relationship(s)?
You don't have to live with your premature ejaculation problems forever. If you really want to put an end to this problem you can with help from the power of subliminal messaging.
It works as a mild form of hypnosis to rewire your patterns of thinking from the inside out. It will eliminate the negative thoughts, doubts, worries, and psychological issues which are the seeds of your premature ejaculation problems. It will:
Help you to last longer during sex.
Help you to relax and eliminate any "performance anxiety" which only adds to your problems.
Eliminate mental blockages and the deeply hidden thoughts which are causing your premature ejaculation.
Help you to control your excitement
Train you to start lasting longer and longer as time goes on.
Rewire your mind so you start enjoying sex more rather than worrying about it.
When you first start using this album you will notice a change in your attitude towards sex. You will be more relaxed and more confident, and you will look forward to it more. As you continue to listen to the album over the course of a couple of weeks you will find yourself lasting longer and longer during sex as the subliminal suggestions build in your mind.
Download this powerful subliminal audio album today and start having sex for longer, enjoying it more, and giving more pleasure to your partner.
Listen To Our Sample Tracks
Each of our albums contains 5 tracks; Ocean, Fire, Wind, Thunderstorm, and a completely Silent track.
These 5 tracks contain the same affirmations (which you can see to the right) - we include 5 different tracks purely to give a variety of sounds for you to choose from if you prefer one type over another.
Select a track below to hear a 20 second sample:
* These samples are representative of what you will hear but do not contain any subliminal messages.
Affirmations In This Recording
I have overcome my premature ejaculation problems
I last a long time during sex
I am relaxed and confident with my sexual performance
I last longer and longer each time
I take my time and have sex slowly
I am in control at all times while having sex
I remain calm and stay in control of my emotions during sex
I naturally control my excitement during sex
I enjoy sex and I am naturally confident
I always last a long time when having sex
Adult
Save Up To 50%
Buy 3 Albums Save 10%
Buy 5 Albums Save 20%
Buy 10 Albums Save 30%
Buy 20 Albums Save 40%
Buy 30 Albums Save 50%
60 Day Money Back Guarantee
[ Close ]
Download 3 Subliminal Albums Worth $44.91
+ Our Exclusive eBook Completely FREE!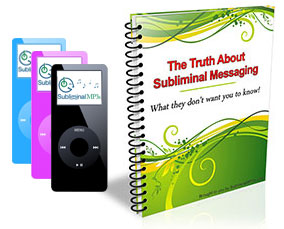 Join our newsletter and receive amazing, exclusive, benefits:
3 Subliminal Premium Downloads Worth $44.91
Our Free eBook: "The Truth About Subliminal Messaging"
Exclusive promotions, offers, and discounts