Stop Caring What Others Think Subliminal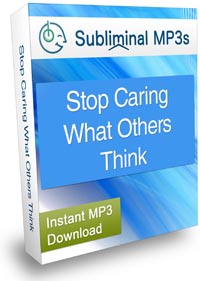 How to stop caring what others think, and get on with living life on your own terms. A life changing subliminal album.
Shakespeare summed up how most of us feel a lot of the time when he said 'All the World's a stage.' Well, Shakespeare wasn't entirely correct: we just think the world's a stage, therefore we care what other people think of us.
Imagine what you could achieve if you had the confidence to not care what other people thought about you, and lived life on your own terms.
How much more could you achieve and how much time could you save in your life? Some of us can become immobilised, until we get approval from others to continue, and pretty soon we can lose our confidence and put the opinions of others before our own opinions. It's time to reclaim your power, and let go of what others think and live life on your own terms. This album is the first step to reclaiming that power.
We've all heard that little voice in our heads asking questions like 'What will they think of me.', 'Am I going to look silly in front of them.', 'What if they laugh at me.', 'What if they stop being my friend.' These are all questions we've asked ourselves at some point in life. However this becomes a problem if we constantly think about these questions.
You have the power to make your own decisions in life, and take responsibility for the direction you take. Will you make mistakes? of course you will, but that's how we all learn about ourselves and about the world around us. have the confidence to make your own decisions and stick to them requires an inner strength, and develop courage. With this album you will:
Reclaim the power within you to stand up for yourself, and stand by the decisions you make in life. The overwhelming feeling of control this will give you can change your life beyond measure.
Become confident about everything you say and do, knowing that you have the courage to make your own decisions.
Regain the mental strength you need to stay focused, and concentrate on what you want to do in your life. You will be single minded and you won't care less about what people think of your actions.
Become more assertive. You will naturally start to be more assertive in all areas of your life, you will gain the strength to stand up for yourself and stop being walked over.
If you want to have the courage to live life on your own terms, then this album will help you to achieve that. It will give you the belief within yourself, to be able to take on other people's opinions and ultimately to make your own decisions with conviction.
You are a Powerful Person
Knowing that you are powerful and unique, and really believing it deep down, will change the way you live life. Over the last few years you may have unconsciously programmed yourself to believe that what others think about you really matters, but you are giving your power away to others when you believe this. This album will help you to reprogram yourself and gain the belief, the power and the control to stop caring what others think.
This album will help you:
Stop caring what others think. Think about the most successful people in life, and what would have happened if they had listened to others who berated them or made them feel foolish for their decisions. Strong, powerful people take on board what others are saying, but manage to stick to their own decisions, and block out what others think about them. They have the belief within themselves to carry on and ultimately succeed in what they do. You can have that power too.
Change your beliefs about yourself, making you mentally stronger and able to deal with sticking by your decisions in life. People who live life on their own terms believe in themselves, and whilst taking on other peoples opinions, ultimately go their own way. This makes them powerful and admired by others. Think about someone you really admire, the chances are that they don't care what others think about them, and seem to have the guts to do their own thing, loving every minute of life along the way.
Gain the confidence to succeed in life. Confident people carry on regardless, and keep going until they reach their goals in life. If you are constantly stopping to check what others are thinking of you or about what you are doing, your goals suddenly become a longer, and more winding journey to take. This album will help you to become confident within yourself, and to keep looking towards your goals in life.
When you start believing in yourself again you will stop caring what others think, and live life on your own terms
Download this album today and reclaim the power you have within you to walk your own path in life and stop caring what others think.
Listen To Our Sample Tracks
Each of our albums contains 5 tracks; Ocean, Fire, Wind, Thunderstorm, and a completely Silent track.
These 5 tracks contain the same affirmations (which you can see to the right) - we include 5 different tracks purely to give a variety of sounds for you to choose from if you prefer one type over another.
Select a track below to hear a 20 second sample:
* These samples are representative of what you will hear but do not contain any subliminal messages.
Affirmations In This Recording
I live life on my own terms without caring what people think
I am mentally strong
I am confident with all the decisions I make in life
I have the courage to walk my own path
I live my life how I really want to
I voice my opinion and point of view at all times
I am a powerful person
I am assertive in all areas of my life
I am in control of what I do in life
Confidence and self belief comes naturally to me
Boost Confidence
Save Up To 50%
Buy 3 Albums Save 10%
Buy 5 Albums Save 20%
Buy 10 Albums Save 30%
Buy 20 Albums Save 40%
Buy 30 Albums Save 50%
60 Day Money Back Guarantee
[ Close ]
Download 3 Subliminal Albums Worth $44.91
+ Our Exclusive eBook Completely FREE!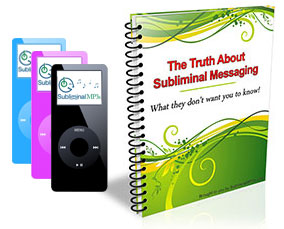 Join our newsletter and receive amazing, exclusive, benefits:
3 Subliminal Premium Downloads Worth $44.91
Our Free eBook: "The Truth About Subliminal Messaging"
Exclusive promotions, offers, and discounts