Effective Public Speaking Subliminal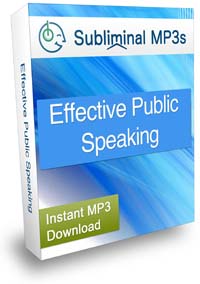 Use our effective public speaking subliminal message to improve your confidence, and help you to speak in any public or social setting.
Do you hate even just the thought of public speaking?
Do you worry for days, or even weeks in advance of having to give a presentation?
Do you stutter, do you shake, do you sweat while you actually speak?
Do you feel ill at the thought of having to speak?
Whether you have to give a presentation at work, or as part of school / university, or even just a speech for a social occasion, our subliminal messages can help you.
This album will make changes to your subconscious mind to change how you feel about public speaking on an internal level:
Instead of being terrified, you will start to see it as a challenge, you will see it as something you want to learn, and a burning desire to conquer your fear. Soon this will transform into you actually liking, and looking forward to the opportunity to speak, and even volunteering.
It also works to help to calm your nerves. You will stop worrying, and your mind will stop racing and thinking of all the negative aspects of speaking.
The subliminal messages will also start to change the associations you think of when you imagine yourself speaking. For example, in your mind's eye you will start to lose the images of you sweating, stuttering, and blushing. Instead you will think positively , you will see yourself calm and collected, speaking slowly and confidently, standing tall and smiling as you talk.
Finally this album will also help you to focus your mind on speaking in the moment, on focusing on the here and now and help you to blank-out everything else.
This is quite a fast acting album; if you listen to it just before you give a presentation you will notice yourself speaking more calmly, losing your nerves, and feeling more confident straight away. In time you will develop all of the skills which come naturally to a confident public speaker, speaking will become a non-issue for you - just something that you do naturally.
Download this album today; start making a powerful and lasting change in your mind and develop the ability to speak in public in any situation as if it is the most natural and effortless thing in the world.
Listen To Our Sample Tracks
Each of our albums contains 5 tracks; Ocean, Fire, Wind, Thunderstorm, and a completely Silent track.
These 5 tracks contain the same affirmations (which you can see to the right) - we include 5 different tracks purely to give a variety of sounds for you to choose from if you prefer one type over another.
Select a track below to hear a 20 second sample:
* These samples are representative of what you will hear but do not contain any subliminal messages.
Affirmations In This Recording
Public speaking comes naturally to me
I am an excellent public speaker
I am a confident speaker
I am confident speaking in all situations
I enjoy speaking and giving presentations
I enjoy the challenge of speaking in public
My speaking skills are constantly improving
I look forward to future speaking opportunities
I am always calm when speaking
My mind is clear, and I am completely focused when speaking
Boost Confidence
Save Up To 50%
Buy 3 Albums Save 10%
Buy 5 Albums Save 20%
Buy 10 Albums Save 30%
Buy 20 Albums Save 40%
Buy 30 Albums Save 50%
60 Day Money Back Guarantee
[ Close ]
Download 3 Subliminal Albums Worth $44.91
+ Our Exclusive eBook Completely FREE!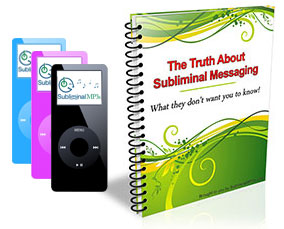 Join our newsletter and receive amazing, exclusive, benefits:
3 Subliminal Premium Downloads Worth $44.91
Our Free eBook: "The Truth About Subliminal Messaging"
Exclusive promotions, offers, and discounts