Stop Criticizing People Subliminal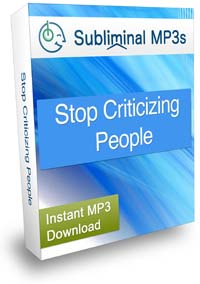 Let this subliminal mp3 help you stop criticizing people and praise others instead.
Do you have a reputation for being negative and critical of others?
Do you go out of your way to find "something wrong" with someone's performance?
Do you criticize other people so much that no one wants you around?
Criticizing people creates disharmony, distrust and a very negative environment. If you want to make friends and get along with people you have to be able to hold your tongue, even look for genuine praise and maintain a positive attitude.
This subliminal album will help you see the good in people and stop you from criticizing others. If you listen faithfully each day, you will begin to notice changes within yourself. Instead of criticizing others you will feel the need to praise people for performing well. Your old ways of thinking and acting negatively will gradually disappear and you will reward people positively and show how much you appreciate all that they do for you.
Your transformation won't happen overnight, but if you're really ready to change, keep listening to this album. Once your mindset begins to change, your future will also change in so many different ways for the long term.
In time you will become:
A positive leader others are drawn to. You will motivate people through praise and appreciation and this makes you easily approachable and a pleasure to be around. Your popularity grows and so does your reputation as someone who always finds something to compliment. This will make you feel appreciated and you will have better relationships.
A lot more influential in business. You will praise people when they perform their jobs well and no longer use criticism to demean them. This automatically boosts productivity among your peers and creates more opportunities for you career wise. You will feel more confident and your positive outlook will be admired by others, and this will lead to much more success in business.
Someone who always has a positive impact on other people and this will make your relationship with family and friends stronger. Your more positive nature will encourage your loved ones to spend more time with you and this will make you feel happier and more connected than ever before.
This subliminal mp3 can help you achieve all of the above by simply changing your mindset on a subconscious level. You will know the messages are beginning to work when you stop yourself from criticizing someone and instead search for something positive to say. That will be your breakthrough moment and your chance to change.
This album is not only useful for people in business, or leadership positions. It is part of our " win friends and influence people" collection.
It will help you to get on with people, make people like you, and make you more approachable - if you can develop the skill of influencing people through praise and positivity rather that criticism then you will win friends, and people will want to be around you.
Download this Stop Criticizing People subliminal album today and let positivity and praise become part of the new you!
Listen To Our Sample Tracks
Each of our albums contains 5 tracks; Ocean, Fire, Wind, Thunderstorm, and a completely Silent track.
These 5 tracks contain the same affirmations (which you can see to the right) - we include 5 different tracks purely to give a variety of sounds for you to choose from if you prefer one type over another.
Select a track below to hear a 20 second sample:
* These samples are representative of what you will hear but do not contain any subliminal messages.
Affirmations In This Recording
I always praise people's good points
I always see the good in people
I always reinforce positive behavior
I always give positive feedback
I reward people for positive action
I reward people for performing well
I always find something to compliment
Praise and positivity come naturally to me
I motivate people through praise and appreciation
I influence people with praise and positivity
Win Friends and Influence People
Save Up To 50%
Buy 3 Albums Save 10%
Buy 5 Albums Save 20%
Buy 10 Albums Save 30%
Buy 20 Albums Save 40%
Buy 30 Albums Save 50%
60 Day Money Back Guarantee
[ Close ]
Download 3 Subliminal Albums Worth $44.91
+ Our Exclusive eBook Completely FREE!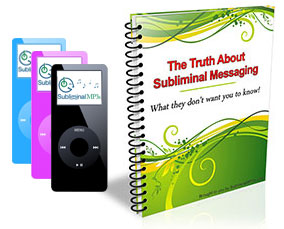 Join our newsletter and receive amazing, exclusive, benefits:
3 Subliminal Premium Downloads Worth $44.91
Our Free eBook: "The Truth About Subliminal Messaging"
Exclusive promotions, offers, and discounts