Live Without Regrets Subliminal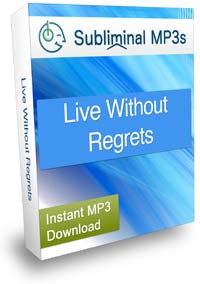 Begin to live without regrets and get the most out of your life with help from this mind transforming subliminal messaging album.
Imagine how different life would be if you could stop living with your regrets, if you could stop beating yourself up over the things you either did or didn't do in the past... If instead you were focused on the present moment, trying to make the most of your current situation, and looking forward to the future and the endless possibilities available to you.
You don't have to live like this forever, you can make alterations within your mind to change your thought processes and your life, but you do have to really want it.
Are you sick of living like this and want to enjoy life again?
Are you committed to making real and permanent change in your life?
Are you serious about changing your patterns of thinking and approach to life?
Are you in the small minority of people who will commit and take action to really change?
If you are actually serious about changing your life then our subliminal messages can help you.
The change will still require persistence and commitment from you but it will send powerful subliminal suggestions into your mind to transform the way your mind works and alter your perception of life for the better:
You will lose the emotional attachment to your past and the things you regret.
You will feel a new energy and enthusiasm for life.
You will start to live in the present moment and get the most from everything you do.
You will feel positive about the future, and look forward to the endless possibilities that await you.
When you first start using the album you will feel more positive and energized straight away, and as you keep listening over a period of a week or two you will notice these feelings grow and last longer. Before long they will become a permanent part of who you are and bring a lasting change to your patterns of thinking and outlook on life.
Download these subliminal mp3s now and within minutes you will be making a life changing transformation to your subconscious mind and the way you think on a core level so you can live your life to the full - without regrets.
Listen To Our Sample Tracks
Each of our albums contains 5 tracks; Ocean, Fire, Wind, Thunderstorm, and a completely Silent track.
These 5 tracks contain the same affirmations (which you can see to the right) - we include 5 different tracks purely to give a variety of sounds for you to choose from if you prefer one type over another.
Select a track below to hear a 20 second sample:
* These samples are representative of what you will hear but do not contain any subliminal messages.
Affirmations In This Recording
I am free from regrets
I live my life without regrets
I have no regrets
I live life to the full without any regret
I get the most out of every day
I live in the present moment
I live my life to the full
My future is full of possibilities
I have an abundance of energy and enthusiasm for life
I have grown because of my past and live every day to the limit
Personal Development
Save Up To 50%
Buy 3 Albums Save 10%
Buy 5 Albums Save 20%
Buy 10 Albums Save 30%
Buy 20 Albums Save 40%
Buy 30 Albums Save 50%
60 Day Money Back Guarantee
[ Close ]
Download 3 Subliminal Albums Worth $44.91
+ Our Exclusive eBook Completely FREE!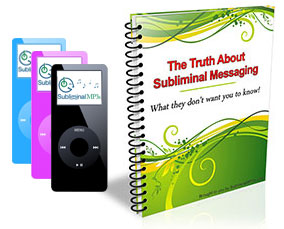 Join our newsletter and receive amazing, exclusive, benefits:
3 Subliminal Premium Downloads Worth $44.91
Our Free eBook: "The Truth About Subliminal Messaging"
Exclusive promotions, offers, and discounts