Subliminal Self Help
Use our primary subliminal self help album to develop into a person you always wanted to be - happy, confident and positive!
Do you feel stressed all the time?
Do you think you haven't developed to your fullest potential?
Could you use more motivation in your life?
Would you like to be more self confident?
Would you like to be more focused, more successful, more positive?
Would you like to be more social and outgoing, to improve your relationships with others?
If you feel that you need help in any of these areas, then this subliminal album is a great place to start! It contains general personal development messages to make you focused on success, confident and positive.
There is always room for improvement, and the first step towards it is to recognize that we can be better than we are, and that there are ways to get there. You can do more than just wish you were better - you can become better, the best version of yourself!
Move beyond wishful thinking
This album is our core subliminal self help album. The suggestions that it will send to your mind are chosen to target some general areas in which we all could use improvement - such as positivity, confidence and personal development. They will plant a seed in your mind that will move you to work on improving and changing for the better.
Still, self help is such a large area that it would be impossible to cram in 1000s of different messages into just one album like this. If you're dealing with a specific issue it is much better to keep a focus in an album on just one main area, so for this reason we would suggest looking at our other products for an album focused more on your exact needs - here are some of our more popular self help subliminal audio albums:
Boost Self Confidence: Does what it says on the tin - our primary confidence albums, and one of our recommended starting points if you are new to subliminal messages.
Develop a Positive Attitude: Another simple album, and one of our favorites - it is regularly playing in our homes and office. Designed to instill in you a positive attitude and to help you to see the bright side of any situation.
Be Happy: Don't worry, be happy with this album designed to wash away your blues and put a smile on your face.
Love Yourself: Learn to love yourself for who you are and develop a solid foundation of self esteem with this album.
We have many others, in fact several hundred more subliminal mp3s to choose from, so why not check our our full range of subliminal messages here.
You are the one who best knows your needs, but we suggest that you start with this album to get the base mindset that will enable you to move forward more easily, and then to explore the other albums to see which will suit your needs the most.
If you're ready to start your transformation to a better you, download this album today and gain the mindset that will allow your best self to become reality.
Listen To Our Sample Tracks
Each of our albums contains 5 tracks; Ocean, Fire, Wind, Thunderstorm, and a completely Silent track.
These 5 tracks contain the same affirmations (which you can see to the right) - we include 5 different tracks purely to give a variety of sounds for you to choose from if you prefer one type over another.
Select a track below to hear a 20 second sample:
* These samples are representative of what you will hear but do not contain any subliminal messages.
Affirmations In This Recording
I have a naturally positive attitude
I see the bright side of any situation
I am a naturally happy person
I have a natural level of self confidence
I have a high level of self esteem
I believe in myself
I have a deep and natural love for myself
I love myself for who I am
I am constantly developing as a person
I grow more confident, and self assured every day
Personal Development
Save Up To 50%
Buy 3 Albums Save 10%
Buy 5 Albums Save 20%
Buy 10 Albums Save 30%
Buy 20 Albums Save 40%
Buy 30 Albums Save 50%
60 Day Money Back Guarantee
[ Close ]
Download 3 Subliminal Albums Worth $44.91
+ Our Exclusive eBook Completely FREE!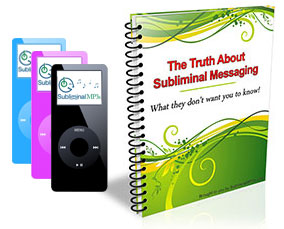 Join our newsletter and receive amazing, exclusive, benefits:
3 Subliminal Premium Downloads Worth $44.91
Our Free eBook: "The Truth About Subliminal Messaging"
Exclusive promotions, offers, and discounts