Natural Swine Flu Vaccine Subliminal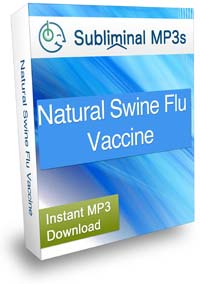 Are you worried about developing swine flu? Are you worried that you are experiencing swine flu symptoms?
If so then help is here, there is no cure for swine flu, but like all vaccines our natural swine flu vaccine will give you relief from your symptoms and help to speed up your recovery
Our subliminal messages work in two simple ways:
1. To boost your immune system. To make sure your body is at it's peak and all your bodily resources and white blood cells are active in fighting swine flu, and helping you recover at a faster rate.
2. To boost your mental strength. Our subliminal messages will calm you down initially and help to relieve your stress. You will then develop a positive attitude towards your recovery - you will be fully focused on making a full return to health and have every belief that this is possible.
This positive attitude in itself will help you to recover at a faster rate as sometimes stress, worry, panic, and anxiety can make things even worse.
If you think you are developing any swine flu symptoms then start using this album now. You should play it at least once a day for 20-30 minutes to receive the benefit, but of course you can play it whether you are relaxing or working and even play it while you sleep for maximum benefit.
Listen To Our Sample Tracks
Each of our albums contains 5 tracks; Ocean, Fire, Wind, Thunderstorm, and a completely Silent track.
These 5 tracks contain the same affirmations (which you can see to the right) - we include 5 different tracks purely to give a variety of sounds for you to choose from if you prefer one type over another.
Select a track below to hear a 20 second sample:
* These samples are representative of what you will hear but do not contain any subliminal messages.
Affirmations In This Recording
I am free from swine flu
I am at full health and full of energy
I have an excellent immune system
My immune system is strong
I have an abundance of white blood cells
I am mentally strong
I recover fast from illness
I am naturally healthy and strong against disease
I am positive at all times
I am calm and stress free and focused on the positive
Health
Save Up To 50%
Buy 3 Albums Save 10%
Buy 5 Albums Save 20%
Buy 10 Albums Save 30%
Buy 20 Albums Save 40%
Buy 30 Albums Save 50%
60 Day Money Back Guarantee
[ Close ]
Download 3 Subliminal Albums Worth $44.91
+ Our Exclusive eBook Completely FREE!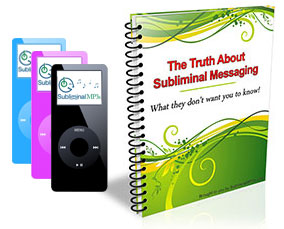 Join our newsletter and receive amazing, exclusive, benefits:
3 Subliminal Premium Downloads Worth $44.91
Our Free eBook: "The Truth About Subliminal Messaging"
Exclusive promotions, offers, and discounts