Living With Uncertainty Subliminal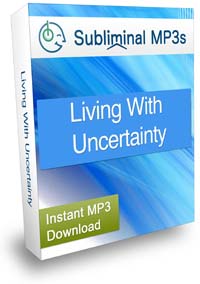 Stop letting the uncertainties of life hold you hostage and start living your life more positively!
Do you worry about how you're going to deal with a new situation in your life?
Do you feel so vulnerable about something in your life you find it difficult to enjoy everyday activities?
Are you tired of being unable to deal with the uncertainties of life and want to have a relaxed, enjoyable life?
If living with uncertainty makes you feel afraid of what may happen to you in the future you're not alone. Things like a bad economy, problems at your job, health issues and even relationship and marriage problems can all cause you to fear the unknown. You can start changing your life with the help of this subliminal album.
If you can take time to listen to this mp3 on a daily basis, you can change the way you think about the uncertainties of life. You will began to notice you no longer feel out of sorts and instead you will feel more positively focused about your life. Into the future you will find that you will react differently the next time you're faced with a situation that is out of your control and ultimately that you can handle change much more naturally!
Instead you will simply take it for what it is, you will be strong and move on with your life. When new urges begin to replace your old ways of dealing with uncertainty, you have to act on those new feelings and soon you will find yourself enjoying life a lot more.
You can continue to live your life worried about things you can't control, or you can start focusing on the positives in your life.
With the help of this subliminal mp3 you will:
Start living your life in the present and able to take on any challenges that come your way. When new situations arise you look at it positively and don't sit around fearful of what might happen. You will feel self reliant and completely prepared to deal with whatever is before you.
Enjoy your life and live fully day to day. You will no longer feel vulnerable when uncertainties of your life present themselves, because you will stand strong and confident and you will move on with life. You will feel happier and self reliant and prepared to deal with situations and continue going forward in your life.
Live your life always focused on the positive. You will not let the twists and turns of life get in your way. This automatically makes you feel motivated, confident and calm and you are able to rise above obstacles and live with uncertainty without focusing on the negatives.
Download Living With Uncertainty now and let yourself enjoy living life now and in the future no matter what comes your way!
When life throws you a curveball it's easy to become negative. This album works well with our Accept Change album and will help you to prepare for and handle situations much more positively and confidently.
Listen To Our Sample Tracks
Each of our albums contains 5 tracks; Ocean, Fire, Wind, Thunderstorm, and a completely Silent track.
These 5 tracks contain the same affirmations (which you can see to the right) - we include 5 different tracks purely to give a variety of sounds for you to choose from if you prefer one type over another.
Select a track below to hear a 20 second sample:
* These samples are representative of what you will hear but do not contain any subliminal messages.
Affirmations In This Recording
I am strong
I will survive
I always focus on the positive in my life
I enjoy my life
There are so many positive things in my life
I live in the present moment
I live a full life day to day
I take every day as it comes
My life improves every day
I am strong and confident and I will move on with my life
Therapy
Save Up To 50%
Buy 3 Albums Save 10%
Buy 5 Albums Save 20%
Buy 10 Albums Save 30%
Buy 20 Albums Save 40%
Buy 30 Albums Save 50%
60 Day Money Back Guarantee
[ Close ]
Download 3 Subliminal Albums Worth $44.91
+ Our Exclusive eBook Completely FREE!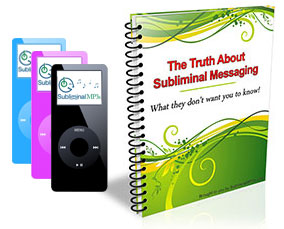 Join our newsletter and receive amazing, exclusive, benefits:
3 Subliminal Premium Downloads Worth $44.91
Our Free eBook: "The Truth About Subliminal Messaging"
Exclusive promotions, offers, and discounts