Overcome Depression Subliminal
Stop letting depression keep you from leading a happy fulfilling life, let this subliminal mp3 help you overcome depression.
Do you spend more time focusing on the negatives of life instead of the positives?
Do you often choose to stay at home instead of going to social events?
Do family and friends tend to avoid you because you're so negative about everything?
Do you want to put an end to your depression and live a normal, happy life?
For many people just like you, depression is a "natural state of being" that feels absolutely normal, but for others the complete opposite is true. You've seen other people go through life expecting the best no matter what and not become negative when things don't go their way.
Their mindset is different.. how they view the world, how they think about life.. You think negatively and get depressed, they think positively and live in a state of happiness and optimism..
This subliminal will help you become naturally happy and optimistic just like these other people you see everyday. If you're really ready to change your life, this album can help you. It will tap into your mind to change the way you think on a core level.
Depression Exists Deep Within Your Subconscious
The subliminal messages recorded on this album go directly to your subconscious in order to get around those negative ingrained thoughts you have stored in your conscious mind. Depression is so hard to change just logically / consciously.. This is because it is not a logical / conscious condition. It is a state of being, a way of thinking which exists and develops deep within your subconscious mind. This is why subliminal audio is ideally placed to help lift your depression.
Eventually your negative thoughts will be transformed into thoughts of a more positive nature and you will gradually turn into someone who always looks on the bright side of life. Once this process begins you will find yourself thinking more positively feeling better about people and various situations. You will naturally begin to be a lot more optimistic. You may find yourself eager to get out and socialize more and meet new people but with a more positive outlook.
Does that sound like the kind of life you're looking for? Where life is enjoyable and fun - where there is a point to life and you enjoy it and get the most out of your days?
Imagine how much more fulfilling your life becomes when you're focused on the positives instead of all the negatives in life:
You focus on positive outcomes, and this automatically makes you feel like you can accomplish more in your life. You also become more productive and ready to take on more responsibility because you believe in the possibilities in life instead of limiting negative thoughts. Your ability to bounce back from any difficult situation makes you feel a lot more confident in yourself and that feels fantastic!
Take a look at how much you enjoy getting out and seeing all the positive things life has to offer. You only see the good things in your life, you start thinking more positively and this makes you want to socialize and get to know new people. You are a lot more personable, outgoing and look forward to attending social events. Your new outlook and positive vibe attracts other positive people in your life and you are invigorated and excited with your new way of seeing the world.
Enjoy seeing yourself as someone your friends and family look up to because you live your life to the fullest and make the most of any situation. People in your life love having you around because of your optimistic attitude and this makes you feel loved and appreciated in a way you've never felt before and you feel grateful.
Imagine the feeling of your depression lifting. Imagine that you are ready to take on life again, wanting to improve yourself, to change, and to start living and making the most of life. Imagine your thoughts are no longer full of self pity, but are positively focused on your future and you make the most of every minute!
Are You Ready to Change?
If you are really ready and want to make positive steps in your life to overcome your depression for good and move towards a brighter, fun future then our subliminal mp3s can help re-wire your subconscious mind and support you!
Stop letting depression keep you from leading a happy fulfilling life, let this subliminal mp3 help you overcome depression.Download our overcome depression subliminal mp3 and let the power of subliminal audio spark a positive change within your mind to change your life!
Listen To Our Sample Tracks
Each of our albums contains 5 tracks; Ocean, Fire, Wind, Thunderstorm, and a completely Silent track.
These 5 tracks contain the same affirmations (which you can see to the right) - we include 5 different tracks purely to give a variety of sounds for you to choose from if you prefer one type over another.
Select a track below to hear a 20 second sample:
* These samples are representative of what you will hear but do not contain any subliminal messages.
Affirmations In This Recording
I see the positive in any situation
I bounce back from any difficult situation
I always look for the positive
I live my life to the full and make the most of any situation
I am a happy any naturally positive person
I always look on the bright side of life
I am naturally happy and optimistic
I stay optimistic at all times
I only see the good things in my life
I am grateful for all the good in my life
Therapy
Save Up To 50%
Buy 3 Albums Save 10%
Buy 5 Albums Save 20%
Buy 10 Albums Save 30%
Buy 20 Albums Save 40%
Buy 30 Albums Save 50%
60 Day Money Back Guarantee
[ Close ]
Download 3 Subliminal Albums Worth $44.91
+ Our Exclusive eBook Completely FREE!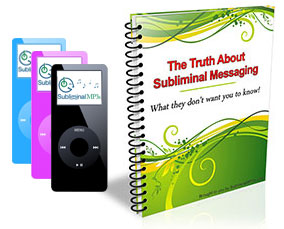 Join our newsletter and receive amazing, exclusive, benefits:
3 Subliminal Premium Downloads Worth $44.91
Our Free eBook: "The Truth About Subliminal Messaging"
Exclusive promotions, offers, and discounts