Find Harmony Subliminal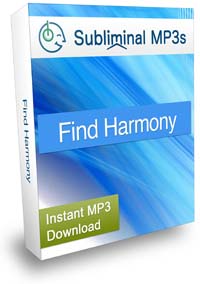 Find harmony within yourself and a deeper level of peace with help from our soothing subliminal mp3s.
Are you rushed off your feet?
Have you had a stressful day (week?)?
Is your head full of conflicting thoughts?
Are you having trouble to come to an important decision?
Whatever is stressing you out, this album will bring you some peace.
Stress, internal conflicts and troubles - even when their root is in some external sources, you can lessen their impact on you by changing the way you react to them.
Some of us have naturally developed mechanisms to cope with stress and to find peace and relaxation at will, but others aren't that successful at it. Their thoughts just can't stop to revolve around the stressful situation, becoming more and more disturbing. If you think your thoughts could use more "order", then this is the album for you.
It has been designed to bring some harmony into a chaotic life and a busy mind. Suggestions that it sends directly to your subconscious are designed to clear the clutter and help you to calm your thoughts so that you can allow peace and harmony to enter your life.
You will experience both your body and mind relaxing, and an increased clarity - a physical and mental sense of harmony. This will help you to see all the chaos in your life, the things which are bringing negative energy into your life, and the situations, experience, and people which are causing you an imbalance.
You will be able to see the right decision to take and approach any situation calmly, and logically. As you get detached from the turbulent thoughts and emotions, you will be able to observe and analyze them from distance, exercising your free will constructively to create a better, happier, more fulfilled life.
You will be at peace in your personal and professional life. As you adopt a conscious mode of behavior and become able to control your thoughts, the relationship between who you are and the world around you will become less stressful and you'll find new ways to enjoy your everyday life.
Try our find harmony subliminal mp3 album today and find harmony and peace within your own mind!
This album is available for FREE as part of our 3 free subliminal albums offer - signup to our newsletter in the header of this page to receive 3 free albums from us; including this one.
This album works well when coupled with our albums Let Go of Resentment and Forgiving Yourself Subliminal, both created to help you to find peace with yourself and with others.
Listen To Our Sample Tracks
Each of our albums contains 5 tracks; Ocean, Fire, Wind, Thunderstorm, and a completely Silent track.
These 5 tracks contain the same affirmations (which you can see to the right) - we include 5 different tracks purely to give a variety of sounds for you to choose from if you prefer one type over another.
Select a track below to hear a 20 second sample:
* These samples are representative of what you will hear but do not contain any subliminal messages.
Affirmations In This Recording
I am at harmony within myself
I am at peace
I have a deep sense of peace and harmony
My mind and my body are relaxed
I am calm and stress free
I am both physically and mentally calm
I am bringing calm and harmony into my life
I am balanced and calm in all situations
I have a natural ability to relax
I am always in a state of harmony within my mind and body
Therapy
Save Up To 50%
Buy 3 Albums Save 10%
Buy 5 Albums Save 20%
Buy 10 Albums Save 30%
Buy 20 Albums Save 40%
Buy 30 Albums Save 50%
60 Day Money Back Guarantee
[ Close ]
Download 3 Subliminal Albums Worth $44.91
+ Our Exclusive eBook Completely FREE!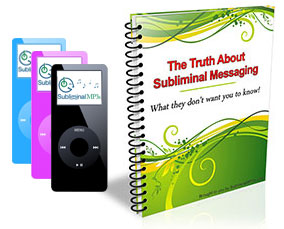 Join our newsletter and receive amazing, exclusive, benefits:
3 Subliminal Premium Downloads Worth $44.91
Our Free eBook: "The Truth About Subliminal Messaging"
Exclusive promotions, offers, and discounts