Make New Friends Subliminal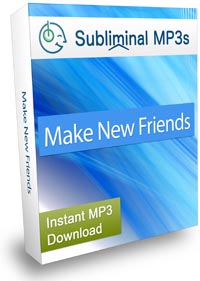 Make new friends quickly and easily, and much more naturally with our unique subliminal messaging album.
Have you ever felt a bit left out at work, or felt that you just don't fit in somehow, even with your own friends?
Have you've tried hard and pushed yourself to overcome your social phobias, but you still feel awkward?
Do you feel self conscious when speaking, and feel that everything you say just isn't right somehow, and you go over the conversations in your head for days after, just thinking what you should have said?
Worst of all, do you see others who just seem to breeze through life and make new friends quickly and easily, and seem to have a magnetic personality that draws others to them?
If you've ever felt any of these things, the good news is you can easily fix this. What you might not know is that if you want to make new friends you have to learn what messages you feed your mind. All the other people you know who make new friends easily know how to feed their mind with confident, positive messages, and you can learn how to make new friends just as easily with this subliminal album.
Your subconscious mind is the controller of the way you feel, act and think. Normally we do not have direct access to the subconscious mind, but with subliminal messaging you do, and with this album you can create the commands needed to help you make new friends.
With this album you will:
Be more confident when talking to other people, and have others hanging on your every word. Confident people make friends easier, they make friends naturally – people are drawn to confident people and want to be friends with them. With help from this album you will become more confident too and find it much easier to make friends.
Feel less self conscious about everything you say and do. You will be comfortable within yourself and you will stop caring what other people think of you. You will be able to approach new people and speak your mind in new groups and you will find yourself talking more naturally and being much more social. This will help you to chat to new people naturally and make friends much more easily.
Attract others to you quickly and easily, and be the type of person you've admired for so long now. This album contains affirmations to help actually attract other people to you, and to help you to acquire the type of character traits which attract other people. This will give you a helping hand in making new friends as you will appear more open and you will find that people actually come to you.
Ultimately this album will give you the character traits which will help you to make new friends effortlessly. You will acquire the sorts of characteristics and patterns as shared by people who just seem to attract new friends and make new friends naturally – you will become one of these people too who doesn't worry about making new friends, who just always can and makes new friends in social settings naturally.
Subliminal messaging will cut through your conscious mind and feed your subconscious mind directly, to help you make new friends and feel more confident. This is not normally possible, due to our cluttered way of thinking. However, subliminal messaging is different. When you use this subliminal album to make new friends, you will notice it has a knock on effect in all areas of your life. Your beliefs about yourself will gradually change and soon others will be commenting on your transformation.
Download this album now and make new friends, quickly, and easily, and transform the way your live your life!
Listen To Our Sample Tracks
Each of our albums contains 5 tracks; Ocean, Fire, Wind, Thunderstorm, and a completely Silent track.
These 5 tracks contain the same affirmations (which you can see to the right) - we include 5 different tracks purely to give a variety of sounds for you to choose from if you prefer one type over another.
Select a track below to hear a 20 second sample:
* These samples are representative of what you will hear but do not contain any subliminal messages.
Affirmations In This Recording
I make friends easily
I am naturally a social person
I look forward to meeting new people
I am confident at all social events
Others are naturally attracted to me
Making new friends comes naturally to me
I have a positive image of myself
I meet people and make new friends naturally
I feel comfortable and confident when speaking to others
My confidence attracts others to me
Social Skills
Save Up To 50%
Buy 3 Albums Save 10%
Buy 5 Albums Save 20%
Buy 10 Albums Save 30%
Buy 20 Albums Save 40%
Buy 30 Albums Save 50%
60 Day Money Back Guarantee
[ Close ]
Download 3 Subliminal Albums Worth $44.91
+ Our Exclusive eBook Completely FREE!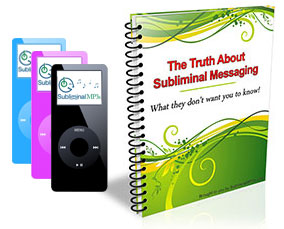 Join our newsletter and receive amazing, exclusive, benefits:
3 Subliminal Premium Downloads Worth $44.91
Our Free eBook: "The Truth About Subliminal Messaging"
Exclusive promotions, offers, and discounts